Solar Home Storage System / Battery: LG Chem Home Battery 6.5kWh




RESU6.5 kwh - 48V, the most suitable solar home storage system for small or lower mid size households in Australia.
Get the most out of your solar with Australia's preferred home battery, 

LG Energy Australia says on Their LG Home Battery website.



Description
RESU6.5 - 6.5kWh battery storage system battery from LG Chem is a Residential Energy Storage Unit (RESU) featuring a 48V (nominal 51.8V) lithium ion battery with integrated battery management system.

RESU6.5 is designed to tie in with a grid connect solar system to increase self-consumption and savings.
An additional inverter (e.g. Solis or Sungrow or Solaredge or Goodwe  inverter) is also required. 6.5kWh is big enough to offset the late afternoon/evening energy use of an average household. Smaller households could cover evening and early morning electricity needs.

Key Features Of LG Chem Home Battery RESU 6.5 kWh: 



RESU generation features 4200 watts continuous power and DC round-tripefficiency of 95% while ensuring 80% of capacity retention after 10 years, and consequently comes with a 10 year warranty. Along with the RESU 6.5kWh , all new generation 48V models (3.3kWh, 6.5kWh, 9.8kWh) can be "cross-connected" with one other 48V unit of any capacity.

All models are floor or wall mountable; thFe protection class (IP55) even allows outdoor installation; however, RPC recommends a cool location, e.g. inside a brick garage.

The general specifications are :
Weight: 54 Kilograms Warranty: 10yrs and  the details specifications of
LG Chem Home Battery RESU6.5 kWh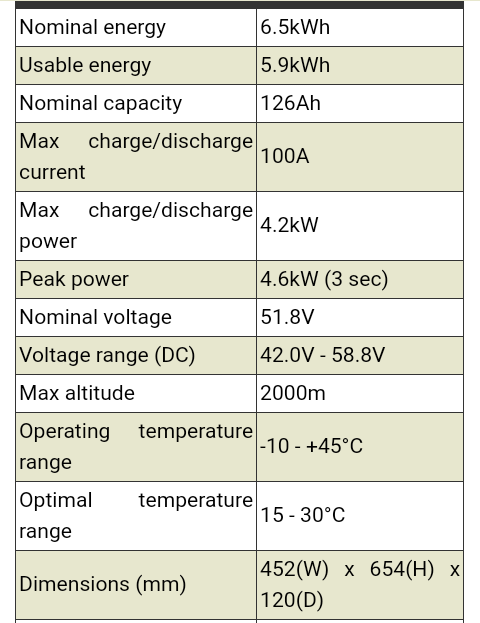 LG Chem Home Battery RESU 6.5 kWh Data Sheet:










DOWNLOAD CERTIFICATE:




LG Home Battery Storage RESU 6.5 kWh Certificate.