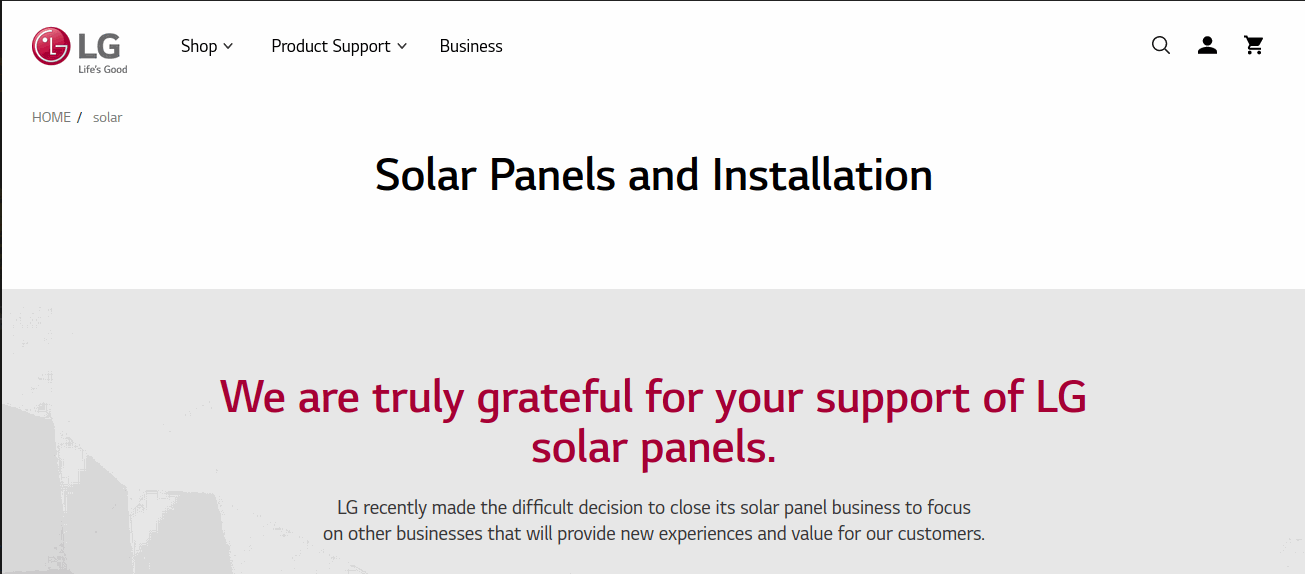 LG Solar offers

strength,

stability and reliability
As a global electronics manufacturing pioneer, LG has more than 60 years of experience in product development and innovation. Now, with over 30 years of research and development in the solar industry behind them, they are one of the leading innovators and manufacturers of solar
panels globally and in Australia and New Zealand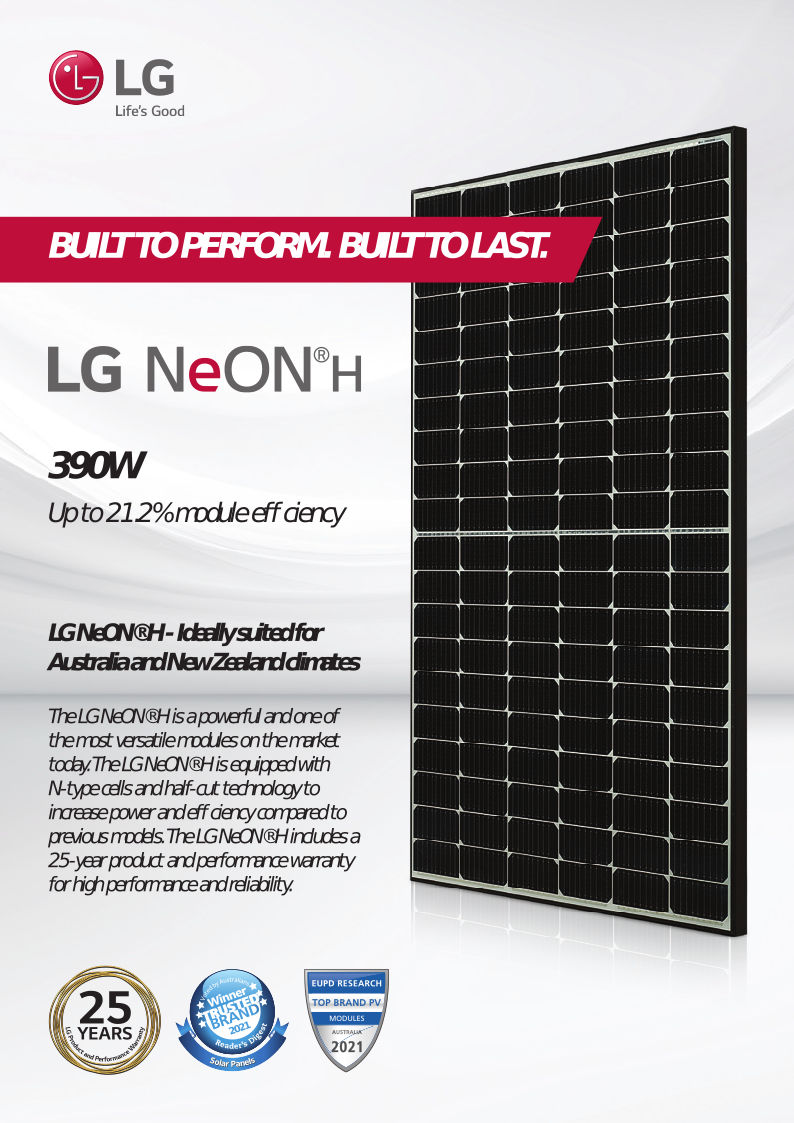 Why LG Solar Panels?
LG solar panels Australia, and especially the NeON range have specific technical advantages, which can result in better performance, and overall more electricity output by solar systems powered by our panels, compared with other standard panels. *
LG Solar panels Australia have many advantages that help form one of the most robust and long-term solar energy solutions on the market.
Offer On LG Solar Panel From Us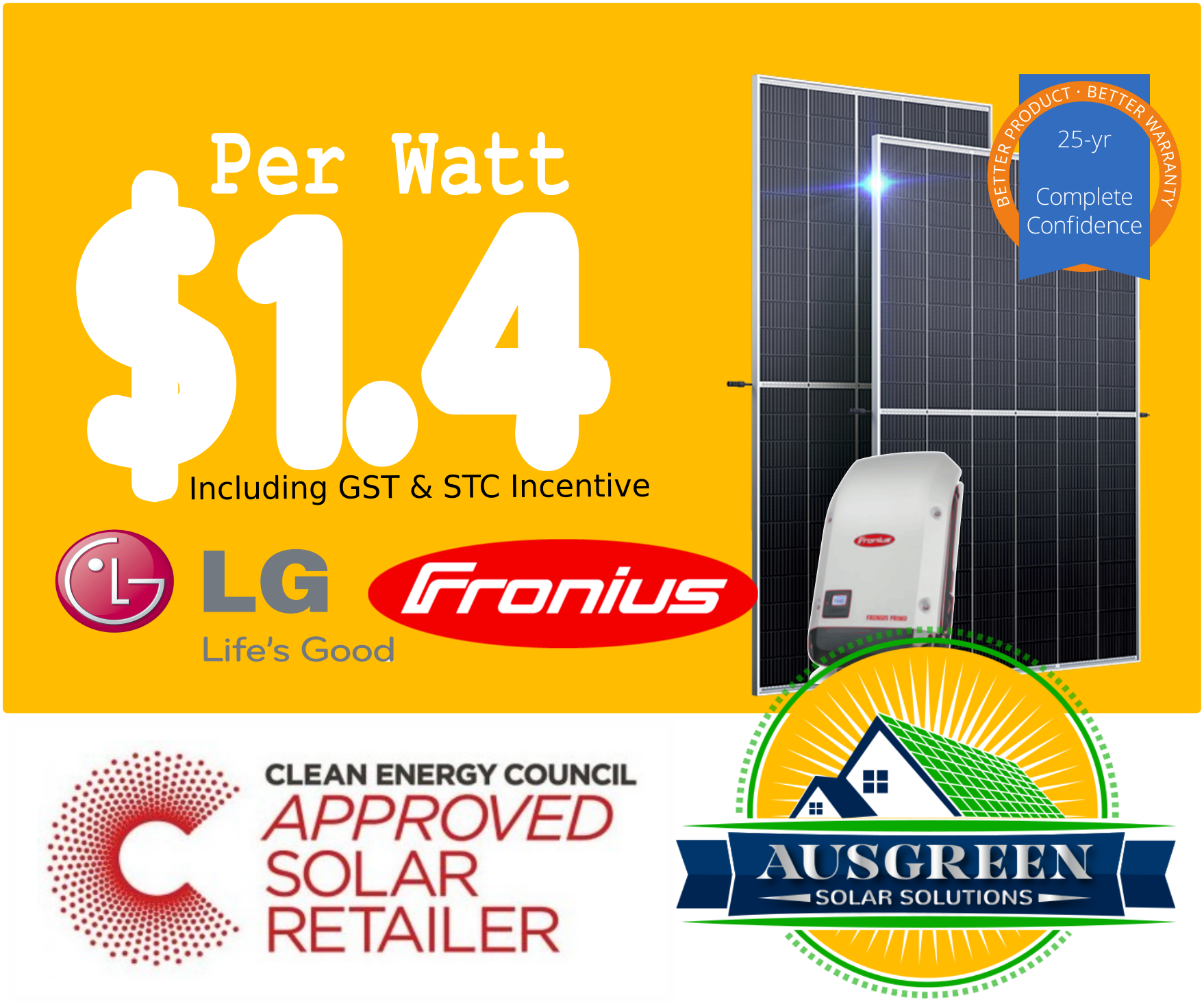 Additional Features
Proven Field Performance

LG has been involved in a number of comparison tests of the LG panels against many other brands of panels. LG NeON® models are consistantly among the best performing in these tests.

Low LID

The N-type doping of the NeON® cells results in extremely low Light Induced Degradation (LID) when compared with the standard P-type cells. This means more electricity generation over the life of the panel, as the panel degrades less.

Hail Resistant

LG NeON® H panels are tested with 35mm hail stones hit at 27.2m per second in comparison with the IEC standards of 25mm and 23m per second, thus making the NeON® H panel significantly stronger to withstand larger hail stones.

25 Year Product & Performance Warranty

The LG NeON® H comes with a 25 year product and performance warranty which includes replacement, labour and transport. The warranty is provided by LG Electronics Australia and New Zealand.

Built To Last - Extensive Testing Programme

LG solar panels are tested at least up to 2 times the International Standards at our in-house testing laboratories, ensuring a very robust and longer lasting solar module.

Strict Quality Control

The quality control of LG world-class solar production is monitored and improved using Six Sigma techniques via 500+ monitoring points to effectively maintain and improve our quality.

60 Years of Manufacturing Expertise

LG panels are designed and built utilising 6 decades of manufacturing excellence by LG. As with any other LG Electronics product, when you buy LG panels, they come with the assurance of a global manufacturer that over the past 6 decades has mastered product design and manufacturing process. The benefit is peace of mind solar panels that exceed customer expectations.